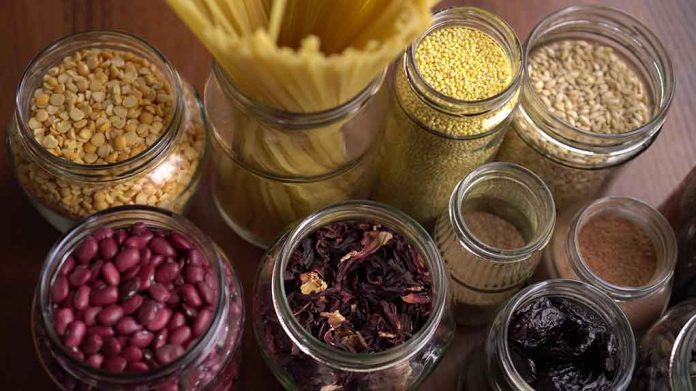 (HealthyExaminer.com) – Stocking the pantry is an important part of meal planning and even emergency preparedness for power outages and natural disasters. You don't have to be a prepper to make sure your pantry is stocked with all the essentials you need. Here's how to get started.
How to Get Started
Stop before you shop! The first thing you'll need to do is go through your pantry and get rid of expired products and anything you haven't used in the last year. You'll need to clean out the pantry before stocking it and then organize it in a way that makes sense to you.
If you're a fan of well-organized spaces, consider labeling the shelves and items in your pantry, sorting the goods by expiration date, and even keeping a running list of your supplies so you'll know when you need to restock.
It's also important to determine what ingredients you regularly use for cooking and baking. This will help you decide the pantry essentials that are essential to you and your family that may not be on the following list. These may include oils, spices, and other items that regularly feature in your meals.
30 Pantry Essentials Everyone Needs
Food Essentials
The following food essentials aren't just good for your baking and cooking needs. They're also great in emergencies, including power outages. You'll want to consider nonperishable items or items with a longer shelf-life. The following items are considered pantry essentials.
Canned fruit
Canned vegetables
Canned soup and soup mix
Juice
Breakfast cereal
Rice
Pasta
Pasta sauce
Nuts
Dried fruit
Flour
Bread
Powdered milk or non-refrigerated milk alternatives
Sugar
Tea
Coffee
Crackers
Snack bars
Baby food and/or formula
Honey
Between these and your family's preferred spices and food ingredients, you'll have a well-stocked meal-planning pantry as well as some necessary supplies for emergencies.
Emergency Essentials
There are some non-food items you should consider stocking in your pantry, too. These items are recommended by FEMA and other emergency preparedness organizations for handling natural disasters and other emergencies.
Bottled water
Prescription medication and glasses
Diapers and baby wipes
Canned or dry pet food
Toilet paper
Feminine hygiene products, if applicable
Flashlights and extra batteries
First aid kit
Pain killers and over-the-counter medications
Thermometer
You can keep your emergency supplies separate from your food pantry, or you can organize your pantry to include all that you need for feeding your family and surviving an emergency. A well-stocked pantry can help you take control of meal planning. Thanks to the organization step, you can even help your budget by knowing exactly what's in your pantry to avoid duplicate purchases.
Copyright 2023, HealthyExaminer.com