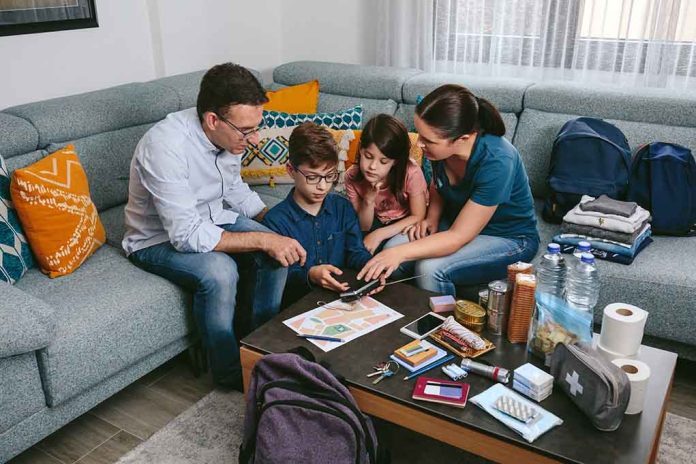 (HealthyExaminer.com) – Preparing for a home emergency is a vital way to protect yourself and the ones you love. You might think you're already prepared because you've changed the batteries in your smoke alarm and have a working fire extinguisher on hand, and while those things are important, it's equally imperative that each person in the household knows what to do in a crisis.
Know Your Risks
What comes to mind when you think of a home emergency? You may think about the risks of fire, flood, and natural disasters. Begin by making a list of each possible type of risk in your area.
FEMA offers a comprehensive list of possible emergencies that could impact your home. For instance, you won't need to prepare for an avalanche if you're in a warmer climate, but you'll want to add high temperatures to the possible emergencies you might face. Knowing your risks is an essential part of emergency preparedness.
Call a Family Meeting
It's time to make a plan! Sit down with your family and consider each disaster scenario and how you plan to respond to it. You'll want to discuss the following:
How you receive emergency alerts
Where you shelter during storms
Where you evacuate during fires
Where to meet if you're separated during an emergency
How the family will communicate during an emergency
Who will be your designated emergency contact outside the home
How you'll notify loved ones outside the home after an emergency
What emergency supplies you have on hand
What emergency supplies you'll need to purchase
What vital medications are necessary for family members and who will retrieve them
Where you'll keep (and protect) important documents such as insurance plans
Your plan will also need to consider the age and ability of each household member and who is responsible for helping younger children, disabled individuals, aging family members, and pets during an emergency. Assign roles and responsibilities. Your written emergency plan should be in a location that everyone can see, and you can even make copies for each individual household member to keep.
Practice Your Plan
Next, practice your plan to make sure everyone understands their role and responsibility. Role-play each scenario on your list and troubleshoot any problems that may come up during these practice rounds.
Don't just practice once! Practice your emergency preparedness plans regularly. Decide how often you want to practice and make changes to the plan as needed. For example, if you add a new pet to your home, you'll want to adjust your emergency planning to include the newest member of your family.
Save for a Rainy Day
Emergency planning doesn't stop at the family meeting. It's important to save for any emergencies that could come up. In the event you have to leave your home following an emergency, can you afford a hotel? This is just one question you'll want to ask yourself.
Think critically about what financial needs you might have in an emergency and save accordingly. Experts recommend that you save three to six months of living expenses, but even saving up $1,000 for your emergency fund is a good start. You might hope the rainy day never comes, but it's good to have an umbrella handy if it does.
Emergency planning doesn't begin when a fire starts in the kitchen or you hear tornado sirens in your area. It starts well before there's even an emergency to face. By planning for the worst, you could save the lives of the people you love best.
Copyright 2023, HealthyExaminer.com