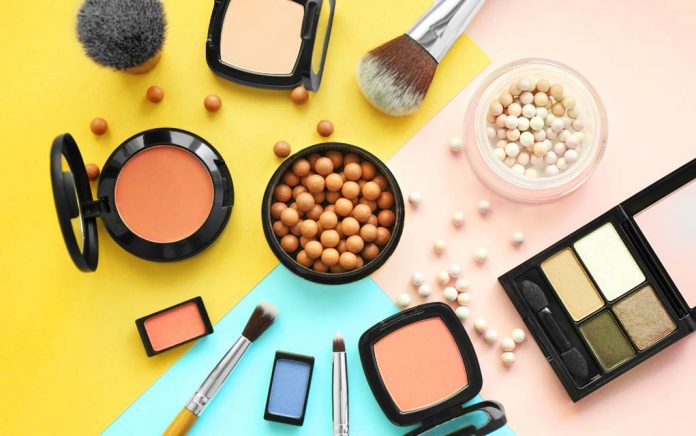 Cosmetic products (such as soaps, lotions, face and eye make up, fragrances, etc.) can provoke allergic reactions in some people. Many people suffer from allergies and anyone at any age can develop allergies. Allergic reactions are the immune system's overreaction to substances that may otherwise be harmless. An allergen can trigger the immune system to release chemical substances such as antibodies that result in allergy symptoms. Many people are familiar with seasonal allergies brought on by pollen from blooming plants, or with food allergies. Allergic reactions to cosmetics most often appear as itchy, red rashes on the skin – or contact dermatitis.
This page provides information about:
---
Common Allergens Found in Cosmetic Products
The FDA has compiled the list below of common allergens found in some cosmetic products. These are allergens that cause most allergic reactions from the use of cosmetic products.
Common allergens fall into the five classes as detailed below:  natural rubber, fragrances, preservatives, dyes, and metals.
What Consumers Can Do
Regarding possible allergens in cosmetics, the best way to prevent an allergic reaction is to know what you are sensitive to and how to avoid it. One way to accomplish this is by carefully reading the product ingredient panel and avoiding ingredients you know or think you are allergic to. It isn't enough to check for terms like "hypoallergenic", "fragrance-free" or "for sensitive skin," as there is no federal standard or definition that governs the use of these terms in the U.S. However, under the authority of the Fair Packaging and Labeling Act (FPLA), the U.S. Food and Drug Administration (FDA) requires an ingredient declaration on cosmetic products sold at the retail level to consumers. However, certain ingredients may be listed generally as "fragrance," or "perfume," without identifying the specific ingredients.
If you have reviewed the product ingredient panel and still have questions regarding the substances in the product, you may contact the manufacturer listed in the product label. In addition, consumers should always check product labels and follow the manufacturer instructions before applying as directed. Reading the label on products is especially important as some products contain ingredients that may cause irritation, regardless of whether you have allergies or not. For example, manufacturers of certain hair dyes instruct users to test a small amount of product first – to see if they have a sensitivity to the ingredients in the product before applying it more broadly.
Symptoms of Allergic Reactions
Allergic reactions can range in severity, but may include hives, itchy skin, a rash, flaking or peeling skin, facial swelling, irritation of the eyes, nose and mouth, wheezing, and anaphylaxis. Anaphylaxis is a severe allergic reaction that can be life-threatening. Symptoms of anaphylaxis include a lack of consciousness, shortness of breath, trouble swallowing, lightheadedness, chest pain, a rapid, weak pulse, nausea, and vomiting. If anaphylaxis symptoms occur, seek medical attention immediately.
In addition to allergic contact dermatitis, fragrance ingredients may also affect the respiratory system because they are essentially vapor and can be inhaled. This is especially true in patients with asthma, allergic rhinitis, and viral respiratory infections. For people with sensitivities to certain fragrances, inhaling them may result in shortness of breath, the sensation of being suffocated, coughing, phlegm, a runny or stuffy nose, headache, chest tightness, and wheezing.
If you experience symptoms of what you suspect is an allergic reaction, consult your healthcare professional, as sensitivity to allergens can become more severe over time. Be sure to discuss with your healthcare provider what product or particular substance you think might be triggering the allergic reaction. They may recommend different types of tests to better understand what you are allergic to.
If you believe you have experienced an adverse event (allergic reaction or illness) after using a cosmetic product, you can also submit a report to the FDA. The FDA encourages consumers with questions about cosmetic products to submit inquiries.
Testing for Allergens
There is some good news. You don't have to wait until you have an allergic reaction to try and figure out what you are allergic to. You can get tested. Knowing precisely what allergen has caused a reaction will help you to avoid further exposure to the substance. Your healthcare provider may recommend you undergo patch testing or some other, less frequently used tests.
Patch Test
This test is often used to diagnose dermatitis, or irritation and swelling of the skin. This test involves placing a small amount of allergen on the skin and covering it for 48 hours. A doctor will inspect the skin after 72 to 96 hours and check for signs of an allergic reaction, including, redness, a rash, or hives. Based on the symptoms present, the physician can determine whether the patient has had an allergic reaction. Patch testing requires two to three office visits.If a patient has very sensitive skin, this type of testing may not be specific enough to help identify allergens and other methods may be used.
---
FDA Activities on Allergens in Cosmetics
To better understand allergens in cosmetics, the FDA focuses its efforts around three main areas:
Monitoring of adverse event reporting;
Conducting scientific research on the mechanisms of allergic reactions and how allergens interact with the body's immune system; and
Conducting research on consumer practices, the frequency of adverse reactions, and consumer awareness of allergens in cosmetics.
Monitoring Adverse Event Reporting
Adverse event reports contain critical medical information and descriptions that help the FDA identify signals of potential safety issues with cosmetic products and ingredients. The FDA receives adverse event reports from healthcare professionals and consumers via MedWatch.  The FDA reviews all adverse event reports and when necessary, takes action to address safety issues associated with cosmetic products and ingredients.
Read the full report 
here.