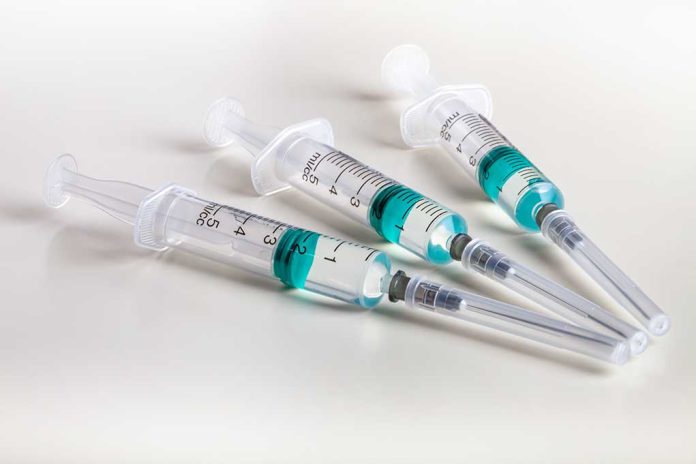 Summary
Company Announcement Date:

September 25, 2021

FDA Publish Date:

September 26, 2021

Product Type:

Drugs

Reason for Announcement:

Company Name:

Eli Lilly and Company

Brand Name:

Product Description:
---
Company Announcement
Eli Lilly and Company (NYSE: LLY) is voluntarily recalling lot D239382D, Expiration April 2022, of Glucagon Emergency Kit for Low Blood Sugar (Glucagon for Injection, 1 mg per vial; Diluent for Glucagon, 1 mL syringe), to the consumer/user level. Lilly is recalling lot D239382D to the patient level because of a product complaint reporting that the vial of Glucagon was in liquid form instead of the powder form. The firm's investigation indicates that the liquid in this Glucagon vial could be related to the manufacturing process. The use of the liquid form of this product may fail to treat severe low blood sugar due to loss of potency.
Risk Statement: Severe hypoglycemia in patients with diabetes, if not reversed, can potentially cause adverse health consequences ranging from transient, minor complaints to neurological damage, seizures, and even death if not promptly treated. Associated with the one product complaint, it was reported to Lilly that the involved patient experienced lack of drug effect and also reported subsequent seizures.
Glucagon Emergency Kit is used as an anti-hypoglycemic agent and a gastrointestinal motility inhibitor indicated for the treatment of severe hypoglycemia in pediatric and adult patients with diabetes mellitus.
The product is packaged in a kit containing 1mg of freeze-dried (lyophilized) product in a 3 mL vial and a pre-filled diluent syringe. The affected Glucagon Emergency Kit lot is D239382D and the expiration date is April 2022 (label expiry date: 04 2022). The lot number can be found on the
label of the kit as well as the vial (refer to the photos provided below – Appendix A). The lot was distributed nationwide to wholesalers and retailers.
Lilly is deeply committed to manufacturing high-quality medicines for patients who need them, and the safety and quality of our products is our highest priority. We take our obligations seriously and have rigorous quality systems in place to ensure compliance with stringent regulatory requirements.
Lilly is notifying its distributors and customers by written communication and is arranging for return and replacement of all recalled products. Wholesalers and Distributors with an existing inventory of Glucagon Emergency Kit lot D239382D should cease distribution and quarantine the product immediately.
Instructions for Wholesalers and Pharmacists
If you have distributed the recalled product, please notify any accounts or additional locations which may have received product from the recalled lot from you. Please conduct a sub-recall to those accounts and communicate this recall information immediately. Please request they immediately cease distribution of the product and promptly contact Sedgwick at 877-907-7032 (Interactive Voice Recording), 877-884-9410 (Fax), or [email protected] (Mon.-Fri. 8:00 am – 5:00 pm ET) to obtain a Business Reply Card (BRC) to initiate the return process.
Instructions for Consumers
Consumers in possession of Glucagon Emergency Kit lot D239382D should contact The Lilly Answers Center at 1-800-LILLYRX (1-800-545-5979) for return and replacement instructions for the product (hours of operation are Monday- Friday, 9AM – 7PM EST) and should contact their health care provider for guidance. Consumers should contact their physician or healthcare provider if they have experienced any problems that may be related to taking or using this product.
Read the full report here.
As published on Healthyexaminer.com.