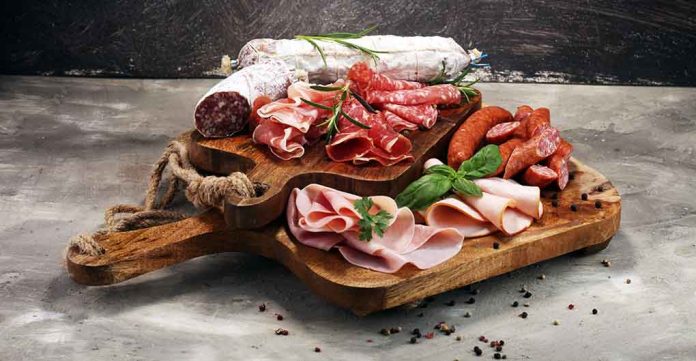 FSIS Announcement
WASHINGTON, Feb. 1, 2023 – The U.S. Department of Agriculture's Food Safety and Inspection Service (FSIS) is issuing a public health alert for ready-to-eat (RTE) meat snack products containing Food and Drug Administration (FDA) regulated chocolate wafers that have been recalled due to an undeclared allergen, specifically peanut residue. FSIS is issuing this public health alert to ensure that consumers are aware that this product should not be consumed.The meat snack items were produced with the recalled chocolate wafers on various dates from January 2, 2023, through January 18, 2023. The following products are subject to the public health alert [view labels]:
2.71-oz. plastic tray packages containing "PRIVATE SELECTION SNACK BOARD SMOKED DRY CURED RED WINE SALAMI" with lot code 11110900408 and Best By dates of "APR 10 2023" and "APR 18 2023".
3-oz. plastic tray packages containing "GREENFIELD NATURAL MEAT CO. SMOKED UNCURED PEPPERONI" with lot code 63100268821 and Best By date "APR 03 2023".
2.9-oz. plastic tray packages containing "PRIVATE SELECTION SNACK BOARD SMOKED DRY CURED SPICY CALABRESE SALAMI" and lot code 11110605471 with Best By date of "APR 03 2023"and "APR 19 2023".
The products subject to the public health alert bear establishment number "645" inside the Canadian mark of inspection. These items were shipped to retail locations nationwide.
The problem was discovered when the producing establishment was notified by their wafer supplier that the chocolate wafers are being recalled because they may contain peanut residue, a known allergen, which is not declared on the label. The Canadian Food Inspection Agency (CFIA) notified FSIS that the recalled wafers were used in products distributed to the United States.
There have been no confirmed reports of adverse reactions due to consumption of these products. Anyone concerned about an injury or illness should contact a healthcare provider.
FSIS is concerned that some product may be in consumers' refrigerators. Consumers who have purchased these products are urged not to consume them. These products should be thrown away or returned to the place of purchase.
Consumers with questions about the public health alert can contact Maple Leaf Foods Inc. at 1-877-526-4520. Members of the media who have questions can contact Maple Leaf Foods Inc. at [email protected].
Consumers with food safety questions can call the toll-free USDA Meat and Poultry Hotline at 888-MPHotline (888-674-6854) or live chat via Ask USDA from 10 a.m. to 6 p.m. (Eastern Time) Monday through Friday. Consumers can also browse food safety messages at Ask USDA or send a question via email to [email protected]. For consumers that need to report a problem with a meat, poultry, or egg product, the online Electronic Consumer Complaint Monitoring System can be accessed 24 hours a day at https://foodcomplaint.fsis.usda.gov/eCCF/.
See the full recall
here
.