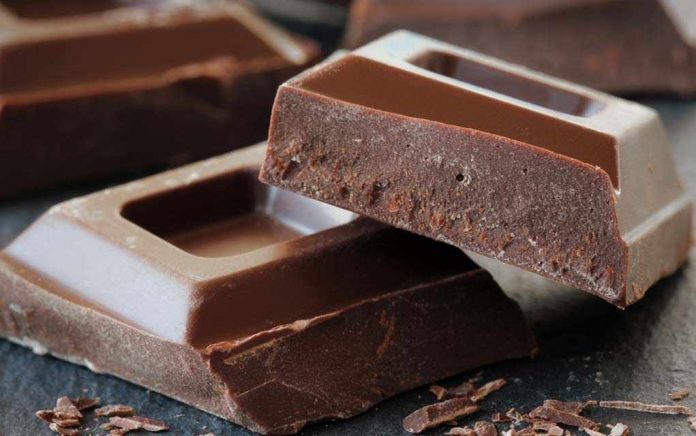 If you're allergic to milk and you love dark chocolate, how do you know whether you can indulge in a dark chocolate bar without having an allergic reaction? That's what the Food and Drug Administration (FDA) wanted to learn.
Milk is a permitted ingredient in dark chocolate, but it is also one of eight major food allergens (substances that can cause reactions that are sometimes dangerous). U.S. law requires manufacturers to label food products that are major allergens, as well as food products that contain major allergenic ingredients or proteins. The eight major food allergens are milk, eggs, fish, crustacean shellfish, tree nuts, peanuts, wheat, and soybeans.
Some dark chocolate products are made without milk as an ingredient, but milk has sometimes been found in these products. Why the problem? In part, it's because milk can get into a dark chocolate product even when it is not intentionally added as an ingredient because most dark chocolate is produced on equipment that is also used to produce milk chocolate. In these cases, it is possible that milk may inadvertently wind up in the dark chocolate. If a dark chocolate product is labeled as "dairy free," the FDA expects that it should not contain milk.
Allergens contained in a food product but not named on the label are a leading cause of FDA requests for food recalls, and undeclared milk is the most frequently cited allergen. Chocolates are one of the most common sources of undeclared milk associated with consumer reactions.
Milk in Dark Chocolate: What We Found
The FDA released the results of a new survey of dark chocolate products collected during 2018 and 2019. The survey covered products that are labeled as "dairy free" or with similar claims. The FDA found that four of the 52 products sampled (12 of 119 samples), all dark chocolate bars, had potentially hazardous levels of milk allergen. The levels, ranging from 600 to 3,100 parts per million (ppm), had the potential to cause severe reactions in consumers with milk allergy. All four products were recalled.
"The presence of milk in dark chocolate products with dairy-free claims is a potentially serious health concern since individuals allergic to milk are likely to consume these products," says Stefano Luccioli, M.D., an allergist with the FDA's Center for Food Safety and Applied Nutrition. "We remind manufacturers of dark chocolate products who choose to make dairy-free claims, that these claims indicate that milk is not contained in the products.
The FDA requires that manufacturers include all major food allergens contained in a food on the label. In addition, food manufacturers must implement a food safety plan that puts safeguards in place to prevent allergens. When allergens are found that are not declared on the label, the FDA takes action to request a recall.
The FDA will continue to monitor the issue, which will include additional sampling of domestic and imported dark chocolate as warranted to detect dark chocolate with undeclared milk allergen and help ensure its removal from the marketplace.
What You Can Do to Stay Safe if You Have a Milk Allergy
Check the label to see if the product contains milk. Milk may either be included in the ingredient list or in a statement such as "contains milk."
If milk does not appear in the ingredient list or in a statement such as "contains milk," be aware that dark chocolate is often made on shared equipment with milk chocolate, so dark chocolate could present a significant risk for individuals allergic to milk.
Read all other label statements on the package. Advisory statements such as "may contain milk," or "produced in a facility with milk," suggest there may be milk present.
Even if "dairy-free" or similar statements are made on the label, you may want to contact the manufacturer to ask how the chocolate was made. Was it made on equipment used only to make chocolate completely free of milk? Are the ingredients used free of milk? What steps does the manufacturer take to ensure this?
Read the full report here.
As published by the FDA on HealthyExaminer.com